ABOUT Indian Wedding in Cancun Mexico | Indian Destination Wedding Cancun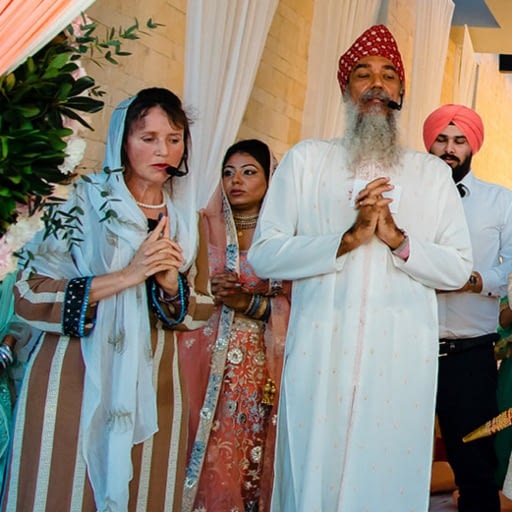 About Us
We have been offering our Cancun Sikh Wedding priest services, conducting Indian Destination Wedding Cancun Mexico ceremonies for over 20 years.  Our extensive experience in conducting ceremonies at various locations world-wide has given us a unique perspective, allowing us to conduct ceremonies at most destinations.  Whether it is a traditional Punjabi, fusion,  or Interfaith Indian wedding in Cancun we create and respectfully present the ceremony preserving all the mandatory Sikh traditions and customs.  Let us make your Sikh Wedding in Cancun memorable.
We are committed to conducting Sikh Indian Destination Wedding Cancun ceremonies with a deeply spiritual, heart-centered, personal approach, treating the couple as if they were our own children, disseminating words of practical wisdom, sharing tips for a healthy marriage and caring understanding relationship. As a multi-racial, fusion couple, we have first-hand experience and a clear understanding of how to deal with the dynamics of both interfaith and traditional couples, and the dynamics that arise at Indian Wedding in Cancun Mexico celebrations.  We work alongside talented professionals to make your dream Indian Destination Wedding Cancun celebration a reality!
OUR STORY
How We Got Started
Almost 20 years back we embarked on a journey to professionally share Sikh devotional Kirtan which took us to India where we recorded with Times Music India. Through an evolutionary process of intense trials and tribulations, which you may have also encountered when planning your Moon Palace Cancun Sikh Wedding, we naturally transitioned into a special Destination Wedding niche where like-minded couples around the world started utilizing our specialized services.
When we are not conducting a Sikh Indian Wedding in Cancun Mexico or traveling from various airports, we enjoy living close to nature to receive inspirational wisdom so  we can share fresh creative original ideas with couples during the ceremony.  Our focus is to continue to offer a compassionate, understanding and loving Indian Wedding in Cancun Mexico and at destinations worldwide.